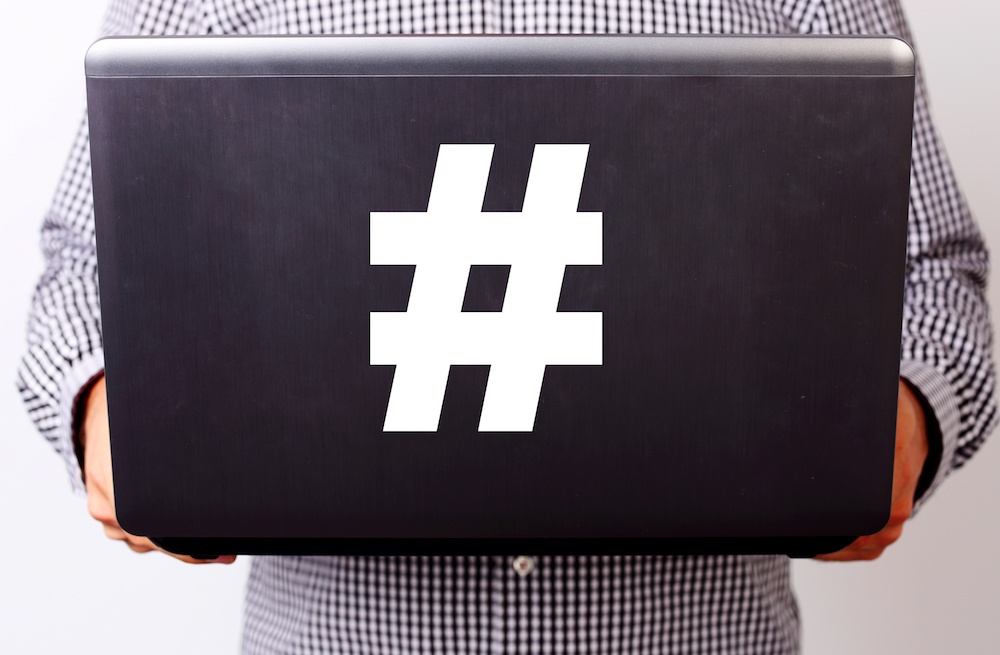 For the purpose of this article, we'll refer to content hashtags as hashtags that a company uses in social media posts. These hashtags aren't necessarily trending or popular, but rather common hashtags that are related to your post content.
Read: All About The Hashtag
By using content hashtags, you can improve the SEO of your social media posts. If used properly, these hashtags can get your updates seen by consumers who are searching for, or using, the same hashtags. For example, at Web Strategies, we use a lot of content hashtags like #SEO, #socialmedia, #marketing, and #webdesign.
There are 4 major categories of common content hashtags:
Product hashtags
Lifestyle hashtags
Event hashtags
Location hashtags
Product Hashtags
People use and search for common product tags. This is where a company should start thinking like the consumer.  Use hashtags that both connect your product and your market.
Example:
If you are, for example, a pizza shop, post quality images of your best pizzas and use the #pizza, #foodie and #foodporn hashtags.
This spreads the reach of his one post and further connects with his fans – and potential fans.
Tips for using product hashtags:
Use Hashtags.org to search for frequently used hashtags related to a particular word. While this site has evolved into a paid service, it's free to see what has been trending over the past 24 hours.
Utilize Statigram, a service that allows you to search for Instagram hashtags trends and get alternatives for hashtag words, so you can choose the most popular tags.
Search Facebook or Twitter for a product hashtag that you'd like to use and see what other words users are tagging in their post.
Don't over-do it! We recommend only using 3 hashtags per post.
Lifestyle Hashtags
To market to your target market, think about their lifestyle and hobbies. Then seek out popular hashtags to include in a few of your updates.
Example:
If you are, for example, a sports equipment store, you could include hashtags such as #soccer, #gameday or #homerun.
Event Hashtags
Event hashtags can be great to include in a content update. This could relate to anything such as a local community fair, a well known global celebration, a live product launch or a webinar you're hosting online.
If your business is taking part in a local event, for example, tell your social connections about it – and spread the word – by including the event hashtag in your post.
Example:
We do this often with Winchester's annual Hop Blossom Craft Beer Festival. By using #HopBlossom in our updates and showing our team members volunteering at the event, we can reach all of those who are following the event on social media.
Tips for using event hashtags:
Promote your event hashtags with partners through social sites.
Location hashtags
If you are a locally based business, you need to connect with your local customers. Use specific geo-targeted hashtags to get your business known in your city.
For example, if you are a local shop owner, use the hashtag of your town – and interact with your potential customers who are also using the town hashtag. Your updates will be seen by your local customers.
Example:
Because we are based in Winchester, VA, we can use #OldTownWinchester, #Winchester or #WinchesterVA as hashtag options in our posts.
Tips for using location hashtags:
Research what tags are being used by your followers, your competition and your product partners.
Engage with people using the same location hashtags – whether it's a retweet on Twitter, a Like on Facebook, a comment on Instagram, and so on.
Hashtags can expand your content reach, amplify your brand, target your market, get your content found, improve your SEO, and more. If you need help with your #SocialMediaStrategy, contact us today!
Sign up for Our Newsletter!
Like it? Share it!