LinkedIn can often be the "forgotten" Social Media, but it's a powerful tool when used to its full potential. Making LinkedIn work for you is about making those professional connections and expanding your reach through your professional development, skillset and connections. A common deterrent is an observation that there isn't a lot of visible engagement among followers but, that's quite the opposite. Professionals looking to connect with other professionals are scanning the entire profile to determine the level of skill and connect-ability. Just because a post or comment didn't get a measurable reaction doesn't mean it didn't get noticed. Quality and consistency is key to gaining acknowledgment through LinkedIn.
"Members are engaging with all forms of content on LinkedIn at record rates, and that engagement is accelerating. Consider that mobile LinkedIn sessions are growing 57% year over year! While the professionals you want to reach might spend time on an array of social media channels, you need to catch them at the right time, when they're in market and in the right mindset to engage and possible purchase. That's what sets LinkedIn apart. It's where the professionals you want to connect with are ready to engage with brands like yours. And it's where your brand stands out against a backdrop of stand-up brands. LinkedIn is where you can foster a community and move prospect and customer relationships forward. It's also the platform you can use to generate the results that matter, everything from driving awareness to driving business growth. In fact, 45% of all social media traffic to a company's homepage comes from LinkedIn."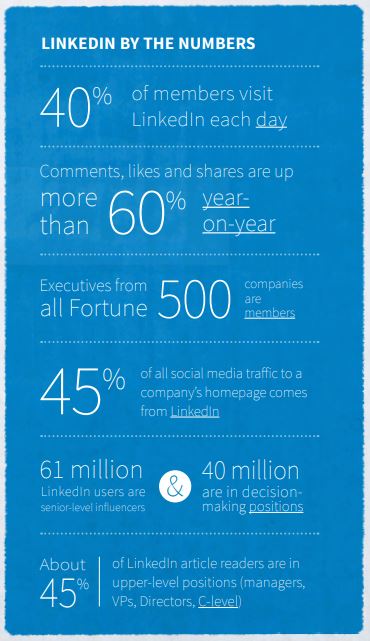 Let's take a look at the latest tips for building linkedin following for both a personal page and a business page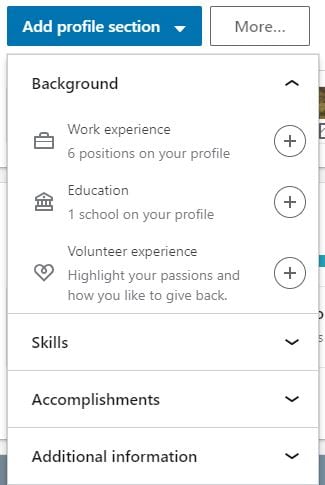 Complete your profile
At the very least, ensure your profile is as complete as it can be and up to date. Add a profile picture that supports the image and message you want to convey. Add relevant work experience, with the most recent at the forefront. Include your education from college to certifications. List out your skillset with thought and precision, if you are not proficient in it, don't list it. These 4 categories are the cornerstones of your LinkedIn profile. These tell the basics of where you started, where you are, and what you've gained along the way. This opens an opportunity for others looking to connect via a familiar face, job titles, acquainted companies, educational backgrounds, and similar skill-sets.
It's important to be meticulous with your skillset as you don't want to portray a skill you don't necessarily excel in. Be proud of the niche(s) you are passionate about and shine in those fields. Followers have the opportunity to endorse the skills you've listed and will gladly do so as they've experienced you perform them. If you have a plethora of skills listed in hopes to appear more knowledgeable, but no backing endorsements, it appears boastful or overzealous.
LinkedIn provides plenty of opportunity for additional "bragging rights", so to say. As you see pertinent, you can add volunteer experience, accomplishments and additional information that could increase the credibility of your profile.
Start Connecting
Build honest connections with other professionals. Connect with past co-workers, fellow alumni, friends and family. Any connection made, that is aware of your experience and skill-set, is a positive addition to your profile. The goal is to build connections that are supportive of your background and professional offerings. These connections will lead to additional connections and new introductions, opening doors along the way.
Don't feel like you have to accept all invitations sent your way. Your connections should be personal choices that you are comfortable with and will benefit from at some point. Don't assume having the leading number of connections makes you the "popular guy". If you genuinely have a large number of connections, that's great! But, if you are simply connecting with any John and Jane Doe, it's not doing you any good.
Be Active
Take an active role with your profile. Endorse fellow connections, that you can honestly support, and they will likely return the favor for your skillset. Share posts and comment on other posts that you can contribute to. Join in on LinkedIn Groups. These groups have specific topics of focus and allow experts in the field to share knowelege and resources on the subjects that are relevant to their professions. Any opportunity is a moment to get your profile noticed. "Being a social network, LinkedIn is all about the size of your network and how those people react to your work. So, if you're consistent and publish a LinkedIn post every week, you will have more opportunities to connect and gain more followers. This does not only expand your network, but it will also reinforce the idea that your skills and knowledge on those subjects is real."
Utilize the business profiles
If you have a business of your own, create a business page. Allow connections through your business that you may not have gained on a personal level. Utilize that page to focus on marketing your business and all it has to offer. Create posts and engage in discussions. Build a network of experienced professionals who have taken an interest in what you are sharing. Be sure to follow and engage with other business pages that your personal and/or business profiles will value from. Learn from what they are sharing and mimic that activity in your own posts.
"Make sure your company's LinkedIn Page is complete, and distinctly appealing to the types of members you want to attract. Pages with complete information get 30% more views, and if the content on your company's Page is clearly useful to people within your target audience, those visiting will of course be more likely to click "Follow."
Tip #1: Optimize your Page for SEO

Did you know you can optimize your LinkedIn Page for search? Follow the guidance in the linked article to ensure your Page is fully discoverable on engines like Google.

Tip #2: Engage your employees

Your team members will be your strongest allies in growing a Page following. Encourage them to spread the word with friends and colleagues who are interested in what you do. For new Pages, this is an essential step toward getting off the ground. When employees tag your Page in updates, and share with their networks the benefits of following your Page, it can provide a big boost.

Also, be sure your employees are properly mapped to your Page (by citing it accurately in their Work Experience), because every time your employee makes a new connection on LinkedIn, the new connection will be prompted to follow your Page.

Tip #3: Add a Follow button to your website

This simple addition can help turn your website visitors into LinkedIn Page followers. To compel action, you might include some messaging like, "If you enjoy our content here, you'll love the stuff we share on LinkedIn." Here's an overview of how to add a Follow button to your company's website.
Consider upgrading to premium
While the free version is ideal for most users, if you really want to boost your connection possibilities, LinkedIn offers options to upgrade. Whether looking to get hired and get ahead, to increased sales or to hire that perfect person to fill a position, you can customize your upgraded account to accommodate your specific needs.

Sign up for Our Newsletter!