Algorithm changes can be extremely frustrating, we get it! As annoying as they truly are, they are for our benefit. No matter our search purposes from the daily 'How To' to Social Media updates, we expect to see the information that suites our needs the most. With these expectations and constant content flow, comes constant change to keep up. That's where algorithm updates are a necessary evil. As business owners, it's up to us to take control of our marketing, understand what makes sense to reach our audience and stay on top of the trends.
Facebooks latest algorithm change at the beginning of this year has transformed its focus to "meaningful content". This could appear to be unfair to businesses as it pulls attention away from business page posts and focuses more on what's happening with your friends and groups, in expectation of creating organic engagement and conversation, creating more connectible moments. Seemingly making it even harder for businesses to reach their audience, if businesses make the right moves they can stand out among the competition who may be lacking in their efforts. No matter the adjustments we need to make the goal is, and will remain, to provide quality content and information our audience is looking for.
"We built Facebook to help people stay connected and bring us closer together with the people that matter to us. That's why we've always put friends and family at the core of the experience. But recently we've gotten feedback from our community that public content — posts from businesses, brands and media — is crowding out the personal moments that lead us to connect more with each other…

We're making a major change to how we build Facebook. I'm changing the goal I give our product teams from focusing on helping you find relevant content to helping you have more meaningful social interactions. The first changes you'll see will be in News Feed, where you can expect to see more from your friends, family and groups. As we roll this out, you'll see less public content like posts from businesses, brands, and media. And the public content you see more will be held to the same standard — it should encourage meaningful interactions between people."
Semrush.com shared 7 strategies sure to please the algorithm changes. Following these will increase your organic marketing to adhere to the sought after. At Web Strategies, we have been guiding our marketing clients to progress into these marketing strategies as we've witnessed the impact of these tactics in social media marketing.
1. Videos have long been prevailing over other shared media. All audiences love visuals of all sorts. Strong images are still a great source, however, a video is that much better. We're not saying to replace all images with videos, but you do need to add more videos into the mix. "Use captions – 85% of Facebook videos are watched without sound due to default settings so include clear and self-explanatory visual cues. Adding captions makes for a simple user experience and ensures your message is received."
2. Create natural discussions. "If people start conversations by commenting on your posts, you will be working within Facebook's News Feed algorithm. It can be a challenge to get people talking though. As a starting point to get the conversation moving, focus on asking stimulating questions. Make sure your content and the accompanying question is unique and compelling." If your business is generating meaningful conversations, that you can support the answers to, you are accommodating the algorithm needs.
3. Utilize your resources. There's no shame in asking those you know for support. "While you should always look to grow your audience using people not associated with your company; using your employees to help you widen your organic reach is a simple step worth exploring. With Facebook prioritizing content from friends and family over business pages, encouraging your employees to become your advocates can help attract more eyes to your content."
4. Make sure your posts have the right media. Don't always share external links. Facebook isn't the biggest fan of pulling users away from their platform and users need visuals to attract them to your post. Make them both happy. Share attractive images and videos to enhance your post topic. Create links to your blog or newsworthy items is great for SEO so don't stray from providing external links when needed.
5. Target your posts. "Now you can use Facebook's targeting feature. When you compose a new post, you will have the option of filtering your audience. You can add up to 16 interest tags to target people whose interests align with your posts. You can also restrict the visibility of your post based on audience age, location, language, and gender."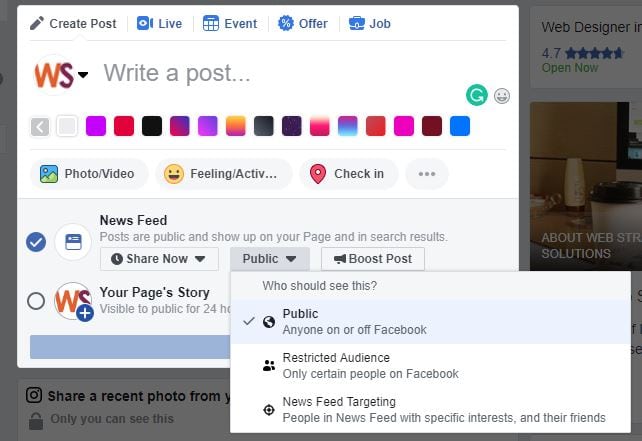 6. Consider creating a Facebook Group for your business page. "A Facebook Group fits Facebook's meaningful engagement vision as they are typically formed around shared interests and create natural discussions." You can use the group just as you would a page. Share news, offers, create discussions, share events and more just as you have been. Followers have to opt-in or request to be a part of the group. This action tells Facebook they have a strong interest in the information being shared in that group and will prioritize the information for your followers.
7. Time your content. There's no magical insight to detect exactly when your audience is logged on and ready but you can monitor your insights. Facebook insights are extremely useful to determine when you get the most engagement. What type of posts do your followers engage in, what times do they interact the most and what creates the most follow through.
Sign up for Our Newsletter!