Have you claimed your Google My Business page? Are you taking action to ensure your Google profile is complete and updated on a regular basis? You should be. First reason simply being the fact that it's Google. Since Google is the leading search engine, paving the way for how we integrate our online marketing, we need to pay attention to the tools they provide.  "Google constantly introduces new tools and features that businesses can use to improve their visibility. One of them, Google My Business, promises to help local companies get more visibility (and search engine accuracy) than ever before."
"Google My Business is an interface that allows business owners to take charge of how their business is displayed throughout all of Google's products and platforms, including its search engine results pages (SERPs), reviews, and instant content."
Why is it worth it?
It's another FREE tool allowing you to showcase what your business has to offer. It's simple to use and once you get the flow going, it takes minimal effort to maintain it. You can take full control of enhancing this profile, providing valuable information to internet searchers all while broadening your audience reach and improving your Search Engine Optimization (SEO).
It improves your local SEO. Google wanted to create a HUB of resources that puts the pertinent information at the fingertips of searchers. It's largely focused on mobile responsiveness so the mobile view is simple and to the point with clickable call to action areas. With one search you can conveniently see the businesses that meet your search criteria in the surrounding area and with little effort call, find directions, visit the website and read reviews.
It's another portal for information about you! Add posts, upload images, encourage reviews from customers/clients, provide updated hours, news and more, all of which you have control over. Through the detailed posts, you can create calls to action by directing traffic to the source of your choice. From your website to social media, you can create cross-referencing between all your online profiles in one step, improving your SEO.
Easy connecting. You can set up messaging where you can choose to receive messages from interested leads via text messaging or email. You can create custom response messages and make the most of your communication efforts. In the same line of keeping the communication flowing, customers can ask you questions and you can provide answers. This is an added feature enhancing the information you can put forth. You can also make booking easy and fast with one click with a booking button. "Booking buttons can help your business stand out from the crowd. People can book an appointment in under a minute directly through your listing—and you make it easy for them to become customers. And you can quickly track how many bookings you get from your Google My Business dashboard."
Google provides detailed insight reports. With the multitude of directions you can communicate and provide information on your profile it can seem overwhelming, but Google takes care of you. On a weekly basis, you can receive email updates with the activity happening on your page. The number of page views, new reviews, post clicks, image views and when a post is about to expire. Friendly reminders help you make the most of your Google Business page and eliminate the stress of searching for what's happening. Although relatively easy to manage, it's not a set it and forget it. The more complete your page, the better first impression you make and Google's insights will remind you of that.
Some important features to note:
You need to keep an eye of "open" or unfinished sections as they can provide an opportunity for changes you aren't aware of. More specifically, the "suggest an edit" option. Any user can suggest an edit to a section that is left blank in your profile. These edits can be implemented if deemed appropriate to Google as Google's goal is to provide as much information about the given business to its users as possible. If you are active on your profile and have completed the sections appropriately your less likely to have issues.
The questions section is also open-ended meaning others can provide their own answers to questions put out there. Monitoring this section closely will ensure you have control over answering the question as it's sent, as well as controlling the answers that are provided by others. If you find that someone is abusing your GMB listing's Q&A feature, reach out to the Google My Business support forums.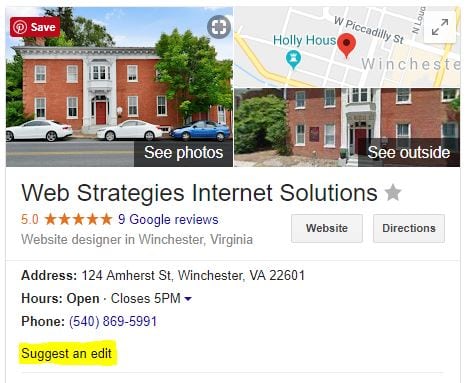 If you are actively trying to create or maintain your Google My Business page but aren't fully confident in the efforts you've made, don't hesitate to ask for help! Making the most of your marketing is what's going to allow it to work for you. Getting professional assistance can take your marketing to the next level, ensuring you are reaching your full potential. We are here to help! We work with you to determine the level of support you need and customize a plan of action suitable for you.
Sign up for Our Newsletter!