The construction industry is one of the most competitive markets. Despite the competition, most construction websites aren't putting forth the needed efforts to attract clients. Primarily relying on business reputation, longevity, word of mouth and client referrals; most construction companies allow their online marketing efforts to slip. Referral based marketing will only go so far, all it takes is a new option to arise for interests to turn.
Your website should represent the quality of your services, provide answers and be a true representation of your work. A quality website should result in revenue generating traffic. After reviewing websites in the industry and experiencing previous ones that we have since redesigned, we've noted what construction service websites are lacking. Breaking it down, it can be summed up in the 4 following categories.
Dated Platform
Most common (and the first thing you see) is the dated platform. Something a "friend of a friend" built 10-15 years ago and hasn't been touched since. Having a dated, unsecured, non-mobile responsive site can have a major negative effect on your click-through traffic and search engine optimization. IF the search engines even place you on the first-page search results, once a new user clicks to your site they will leave faster than it took to fully load. If you don't care about your online appearance, what kind of care do you put into your work? First impressions are everything, in the eyes of potential clients as well as the search engines. If your website isn't meeting today's standards, you are better off just taking it down.
To make it worse some start to focus more on social media marketing, keeping their social profiles updated and active while neglecting their website entirely. Don't get us wrong, we are all about the importance of social marketing! However, you need to have an equal balance of effort towards all your online marketing. Having conflicting branding in your online marketing can be confusing and cause more concern. Don't put all your effort into one place where you "think" your audience will search and forget about others that they will eventually find.
Clear Branding
Who are you and what do you stand for? Yes, we can assume you are a contractor of some sort and you may imply certain, general services you can provide. But who are you, specifically, and what is your true background. If you've had your logo for years and are proud of it, then show it off, create that visual connection between online and print marketing. Allow that logo to tell a story, then back that story with content that tells them how you got to where you are today. If your logo is worn out and in need of an upgrade then it's time for a rebrand. Take a deep look at your company and how you want to represent it. Don't take your branding and messaging lightly. It can begin your story and continue to tell it as the years go on. Often times construction companies build immunity to what they've been seeing and practicing for years and don't consider the fact that it's not doing justice to the overall impression of an outsider.
Content, Content, Content
Most contractors are ready and willing to discuss the services they can provide and how they can complete the tasks asked of them. For some reason, they don't display those exact words on their website. Site visitors are often left questioning what services the company actually provides or the process they follow to complete them.
The limited content that does exist is typically dated or irrelevant. Old team members, services no longer offered, new services not represented, case studies from years ago and old contact information. Don't assume visitors know what your company has been up to or that their reference "filled them in". Ensure the content you provide is accurate and fulfills a purpose.
In time, you may have done a great job of describing each service and have a completed "about us" profile but are you providing regular updates? Most contractors aren't fans of the "blogging" concept or having to provide regular updates, creating more work for them, but it's a must! Show that you are still relevant and still active in the industry. Provide regular updates on recent projects and news that proves you are a current, practicing contractor that is ready to take on whatever they need.
The right content allows your company to stand out among the rest. Eliminate any hesitation and doubt a new visitor may form by seeing an unfinished or dated site that leaves them questioning what you really do.
Stock Imagery
Most companies don't have images of their own and they don't want to bother with it. They resort to stock imagery, picking the typical smiling crew in construction hats or construction type atmosphere that could be a representation of their actual work. While we are certainly fans of stock photography for certain uses, true images are always preferred. No one wants to see a "fake" setup or false representation when they finally meet face to face. It doesn't require much effort to take some pictures or higher a photographer to capture images of completed work. Be proud of your crew and the work you accomplish. Allow that to speak for itself and sell your services.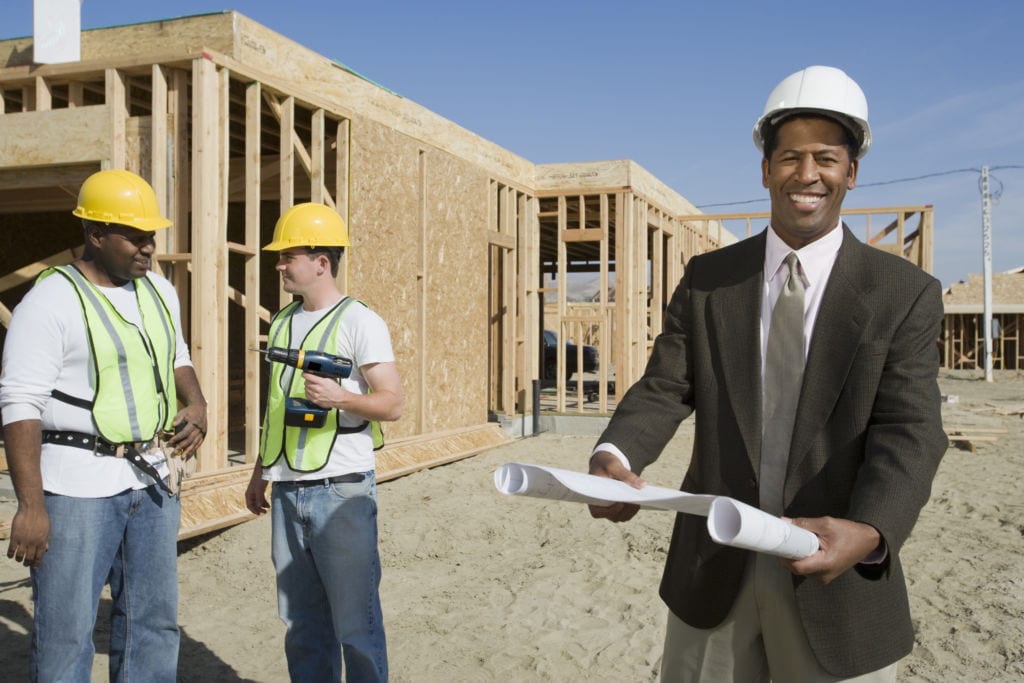 Take your website seriously. Don't underestimate the opportunity it can bring when designed and maintained correctly. We live in an online world, where the newest, best looking, easy functioning site will win over the one that is relying on it's "good name" and reputation to get them by.
Sign up for Our Newsletter!