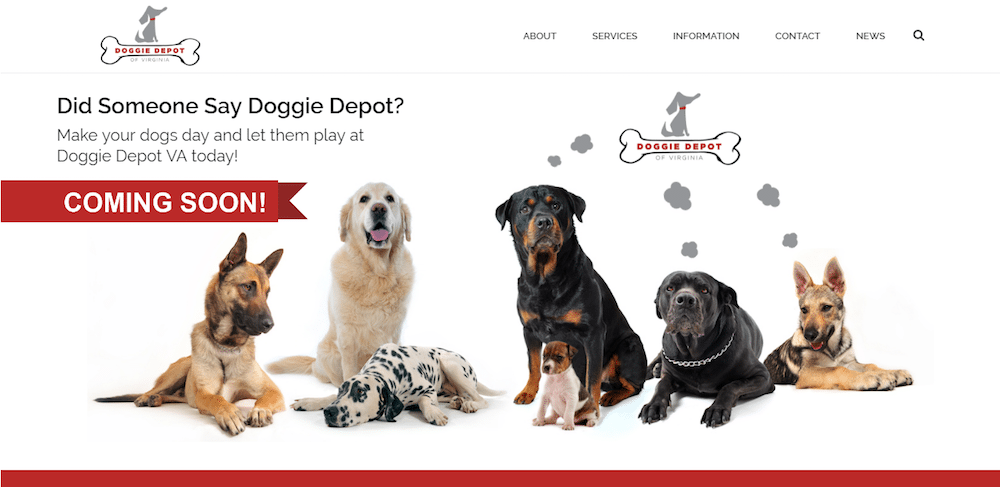 Laura Schleef was ready to take her long time passion for animals and turn it into fun and professional business. Taking her previous business experience and combining it with her newly obtained training knowledge and proper techniques, she decided to open a premier dog daycare service in Winchester, VA.
With her mission of providing a safe and stimulating environment for dogs to play, train and socialize, Laura knew she needed a website that could reflect the professionalism of her services. So, she came to Web Strategies in search of overall branding and online presence guidance and help.
We first worked with Laura to create a fun and simple logo that could represent her new venture, leading into print collateral designs. Once we established the look she was going for, we started on the visual and functional needs of her website.
It was important to reflect the seriousness of her business while allowing the fun and playful atmosphere of having a dog daycare facility shine through. We worked with her to determine the content structure and best steps for launching her new website while making note of what to incorporate as she continues to grow.
The Doggie Depot of Virginia has a fun, unique and resourceful website, just like the services they offer. We led Laura in the right direction for search engine optimization as well as training to maintain and grow her sight as her needs evolve. Check it out! 
Sign up for Our Newsletter!