As Google is focusing more on voice searches and mobile indexing, content readability is increasingly becoming a top priority with Search Engine Optimization (SEO). First, you must provide the content! It's a constant reminder that content is still king and blogging is crucial for proper online marketing. Consumers need validation, need proof that you are the top choice. The way to become the top choice is by making your content stand out from the rest. Once you understand what kind of content to pump out, make it good! Get in the mindset of the consumer. What are they searching for? How are they searching for it? What do they want to read about and see when they get there? We not only have to consider the right keyword focuses, but we need to ensure the content we publish is "readable", that consumers of all sorts can get the information they hoped for no matter their reading pattern.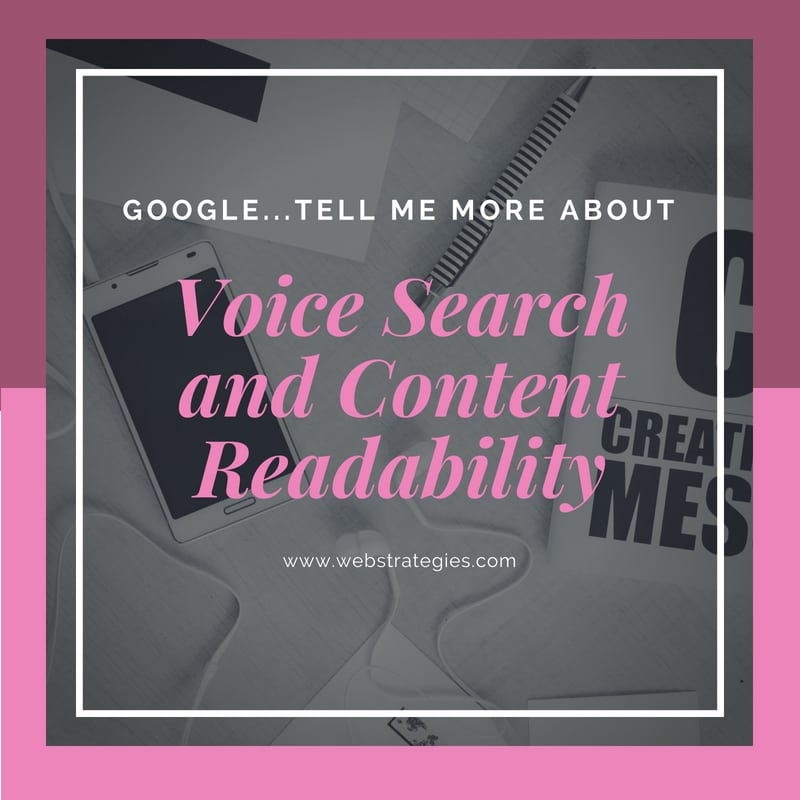 "Google will, increasingly, assess the topic of a text the way humans assess the topic of a text. People scan through texts, read subheadings and the first sentences of paragraphs. People look for transition words in order to quickly abstract what the main conclusion of an article will be. All the things humans do while reading a text, are things Google will do. That means that the structure of your text, the way you write your paragraphs, will become increasingly important. Core sentences (the first sentence of every paragraph) will gain importance. Having a clear and logical structure in your text will be invaluable." Read more on Readability by Yoast.
Think it's just another trend? It's certainly not. Think about it…With the ease of talking into a device and getting immediate results with minimal effort, why would consumers take a step backward and cause more effort on their part to find what they want? With mobile devices gaining technical advancements by the month, how will mobile searches diminish? With today's technology, we continue to create the fast paced, results now, immediate assistance world on the go with ease. The demand for voice searching and readability will only increase and become more specific as we formalize the "new searching" process. It's smart practice to jump on the bandwagon now as Google promised its ranking algorithms will complement the up and coming demands.
In a 2018 voice search statistics list shared by WordStream, they gathered the following noteworthy stats.
According to OC&C Strategy, in 2017 13% of all households in the United States owned a smart speaker, that number is predicted to rise to 55% by 2022.
By 2020, 50% of all searches will be voice searches, per comScore. And about 30% of all searches will be done without a screen, per Gartner.
72% of people who own voice-activated speakers say that their devices are used as part of their daily routines, per Google.
2 in 5 adults use voice search once daily, per Location World.
Sign up for Our Newsletter!