You seemed to have left something behind…let us help you retrieve it!
Cart abandonment emails are sent to customers who have added items to their cart and left the site before checking out. These emails can be an effective marketing tactic to increase return traffic and generate sales. A friendly reminder, a helping hand, an encouraging word to help guide your customers back to the optimal goal for both of you. They get the item they wanted and you get a successful sale. In an infographic shared by wordtracker.com "69.23% is the average documented online shopping cart abandonment rate. Retailers that re-targeted users with a shopping cart abandonment email saw conversions of 17.6% from the emails."
More importantly, the number of responses that happily take the abandonment email reminder didn't purposefully leave their cart behind. "24% of customers cite "Website Crashed," and 15% cite "Website Timed Out" as reasons that they didn't complete a purchase." Check out some great examples of abandonment emails shared by Shopify.
When creating the reminder email, be sure to implement the following.
Get their attention
Create an attractive subject by reminding them that they forgot something. Personalize the email so the intended viewer gets the immediate connection.
Spark their interest again
Show them what they left behind.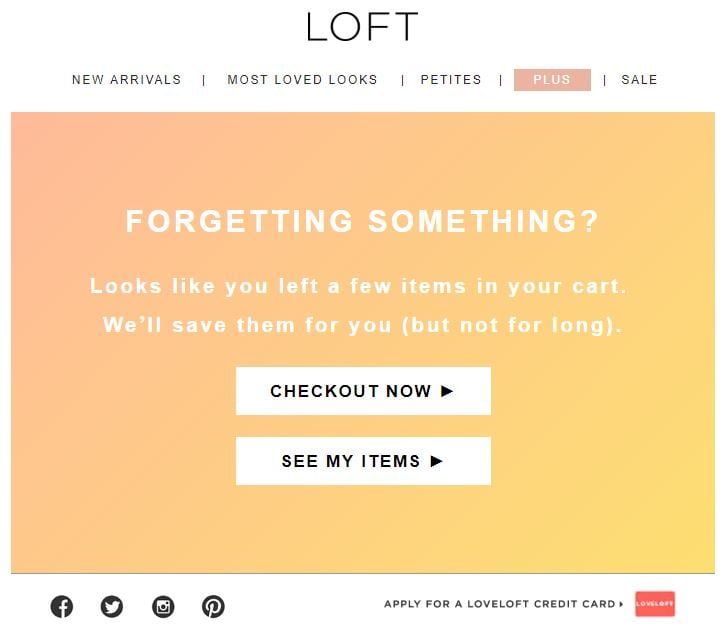 Ratify their choice
 Let them know what they were picking is still a great choice and why. If there are other options similar in style, suggest those as well.
Offer a discount
Encourage their follow through and offer a discount if they purchase within a given timeframe.
Boast a little
Don't be afraid to pat yourself on the back and provide a little insight into the popularity of the product. Create a sense of urgency, if they want it, they have to get it before it's gone.
Make it easy
Allow them to get back to their cart with a simple click.
Sign up for Our Newsletter!