Why should I use a graphic designer? Surprisingly, in this day and age, that's still a common question. It really shouldn't be a question of "why should I" but more "why aren't I".  "A designer isn't just going to make your letterhead look nice, they are going to consider who you are, who your company is, who your audience is, what will go on your letterhead, what information is most and least important to display, what the competitors in your field are doing with this medium, etc. They are going to pull apart your content and reassemble it in a way that helps you communicate to your audience in the best possible way." We couldn't have said it better ourselves. As a design team, we take just as much pride in completing a visual marketing campaign for our clients as they do. Using a professional designer should give you the confidence that your marketing materials are portraying the best image for your brand as possible. Eliminate the stress of knowing what marketing materials you should create, how to craft them and if they relay the right messaging. Hiring a professional will allow you to focus on building your brand while developing the supporting materials to go along with it.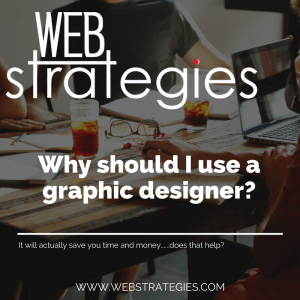 It will save you time and money.
After spending countless hours (of which you don't have) trying to perfect your flyer or marketing piece with what tools you have on hand, are you familiar with all the print formats and requirements needed to hand off your final design to the printers? Creating a print-ready document requires skill and experienced planning for proper execution. One little margin of error can cost a great deal to fix if it isn't caught in time. Working with a professional designer can save you the footwork of developing that perfect piece to represent your vision, it provides you security knowing your work will be professionally executed, and relieves the stress of unnecessary back and forth with the printers. 60.8% of businesses have seen the results and understand the importance of visual marketing and have teamed up with a professional designer for optimal marketing.
It helps you create a professional, cohesive brand.
Your brand is unique, so let your graphics needs showcase that uniqueness. Don't settle for a cookie-cutter logo or marketing piece that another person may already have. Your brand means a lot to you, so be proud of the design efforts you put behind it. Your marketing materials are the visual representation of your brand, why just slap it together because you needed something to hand out? The quality of the presentation reflects the quality of the work behind it. A professional designer will take the time to do the market research if you print-ready to determine the right direction to take your branding. They will work with you to piece together your message and create a cohesive representation throughout your materials. Utilizing professional help will open the creative possibilities to construct branding that is exclusive to you.
It will help you stand out from your competition.
Quality graphics draw attention. Visually appealing imagery and font usage are proven to catch a viewer's attention and pull them in. Over the last 10 years, they performed studies on business' performance comparing those with professional graphic design support to those who went the DIY route and the numbers have continued to overwhelm researchers by showing a 200% out-performance rate by those recruiting professional designer assistance. Competition is higher than ever with online tools and growing resources, so a business cannot afford trial and error when it comes to their marketing efforts. A good designer should know when to be different and when to "stay with the times". Often we find ourselves falling into the trap of following the "in crowd". In the world of marketing design, joining the "in crowd" can be good and bad, the key is understanding what is right for your brand and what elements will pull it all together in a way that makes sense for your message. Don't blend in, stand out.
It will help you motivate your audience.
Good visual marketing should create an experience, it should leave a mark. How often do we find ourselves saying, "I can't remember the name but I remember it had [this] graphic or contained [these] colors". Your branding should convey your message in a visually appealing way that allows your audience to connect with your unique offering. Any professionally executed visual design is over 60% more likely to get shared among peers. Our culture largely consists of visual learners and a good designer should know how to attract those expectations through proper marketing. "According to Brainrules.net, a person who hears a piece of information will remember just 10% of it three days later, while someone who sees that same information in a picture will recall 65% of it."
Sign up for Our Newsletter!