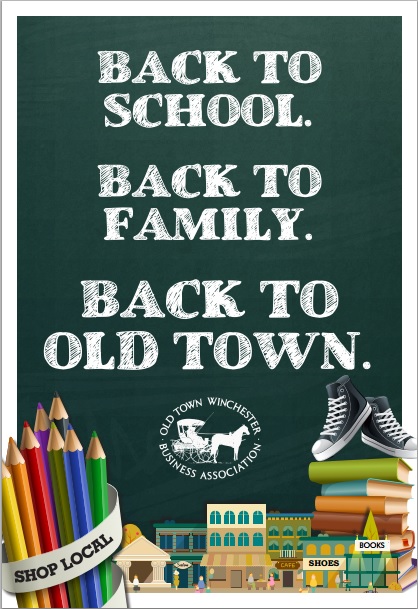 Several studies
have shown that when you buy from an independent, locally owned business, rather than a nationally owned businesses, more of your money is used to make purchases from other local businesses, service providers and farms — continuing to strengthen the economic base of the community. Here at Web Strategies, we wholeheartedly believe in encouraging shoppers to stay local. This is why we teamed up with the Old Town Winchester Business Association to create their Shop Local poster with a 'Back to School' theme.
For the design, we featured shops that were pertinent to Old Town to help visitors identify with the Old Town walking mall, a location known for its
unique local shops
, convenience, and charm.
This poster is available free of charge to all Winchester businesses to promote shopping locally in Old Town during the Back to School season. Stop in at the
Winchester Book Galler
y to get yours today!
Here at Web Strategies, we can produce beautiful print creatives that reflect your unique place within your industry. We'll work with you to understand your audience and goals in order to create the most effect and attractive print pieces for your business.
We offer a variety of print collateral services including:
Advertisements
Restaurant Menus
Fliers and Business Cards
Brochures and Rack Cards
Programs for Special Events
Logo Development
Look over our portfolio and Contact us to discuss your next print project.
Sign up for Our Newsletter!
Like it? Share it!