These 10 steps for your marketing resolution will help you get your 2018 marketing on the right track.
Repeat after us:
I will create a marketing strategy
I will determine a marketing budget
I will stick to my marketing plan & strategy
I will not neglect my website
I will create and share more relevant and up to date content
I will do a competitor analysis
I will look at all social media options
I will take an active part in my social profiles
I will monitor Google Analytics and social metrics
I will keep consistency with all online marketing efforts
I will create a marketing strategy
Take the time to think through your year, break it down by month, quarter, or weekly, whatever fits your businesses marketing schedule. Determine your mission, your message you want to portray and carry that through your production calendar of topics and shareable items.
I will determine a marketing budget
Marketing should be a considerable part of your yearly budgeting. Review past marketing efforts, what has worked and what can be eliminated. Open your mind to new online marketing options and research appropriate budgets to dedicate to each item. For instance, if you haven't done paid Facebook ads, give it a whirl. "In 2018, the average firm was expected to allocate 41% of their marketing budget to online, and this rate is expected to grow to 45% by 2020. Social media advertising investments will continue to grow, with a 17% compound annual growth rate from 2016 to 2021, and is expected to represent 25% of total online spending in 2018."
I will stick to my marketing plan & strategy
You've put the time and effort into your marketing plan and strategy, so see it through! Don't forget about it, don't neglect the thought that you carefully put into it. Having a scheduled plan will alleviate the stress of thinking on the spot; what to post, where to find a topic, what dates are coming up? This is already accounted for in a professionally planned strategy so utilize it and follow through with the plan. Yes, you can always add and take away as you see fit but at least the basis is there to start with.
I will not neglect my website
Don't forget about your website. It's a huge part of your online marketing presence. It should be the hub of your activity. Google is the starting point for search engines and all other profiles should branch off from there. If you let your website sit it will become stagnate and will have a negative effect on your overall marketing. You don't want to put effort into social media to then have your traffic navigate to your site and see an outdated, useless platform that they won't return to. Really assess your site. How's it functioning? Is the content relevant? Are the pages useful? Are you providing a resourceful blog to draw attention? Are you giving users what they expect from your website?
I will create and share more relevant and up to date content
Give your followers what they want. Don't always make it about "me, me, me". Tell them about your business, show them what you can do, definitely provide that insight into who you are and what you are about BUT don't make it all you share. You need to provide knowledge, facts, and news relatable to your business or industry. Relevant content should be a well-rounded, balance of your business and the knowledge you can share backing your business. Give users a reason to return, give search engines content that will make them put you on the first page of Google. "98% of searchers choose a business on page 1 of Google". Adding content boosts your SEO. Improved SEO, improves rankings. "53% of marketers say blog content creation is their top inbound marketing priority."
I will do a competitor analysis
Don't think you can overlook your competitors. You may think you have a one up on them in some fashion however, they could be one-upping you in another way. You don't need to copy them, you need to keep your individuality. However, if you are targeting similar audiences and they seem to pull a larger attraction then ask yourself "what are they doing differently then you"? Observe and learn from one another. See what's working and what's not. Help yourself determine what actions to take with your website and other online profiles. If you are the upper track of performance among the rest then continue on that path by watching their activity. If you notice a spike in their production, react accordingly to maintain your hierarchy.
I will look at all social media options & I will take an active part in my social profiles
Numbers 7 & 8 go hand in hand. Don't limit your online marketing to one social profile. There are a lot of medias out there, there are a lot of social platforms to consider. We aren't saying you need to jump on every bandwagon. What we are saying is keep an open mind to what social media would be best for your business. Research those options and get professional assistance to properly set them up. Once set up correctly, they are FREE to maintain. Why wouldn't you take advantage of this powerful marketing tool? Don't get stuck in the habit of managing what you are used to and nothing else. Don't miss out on expanding your target reach by not having a platform that is beneficial. Once you've established the right profiles, maintain them! Just like your website you can't let it go stagnant. Give your followers the courtesy of new posts that peak their interest. Give them a reason to click "like" or "share" or write a comment. All this activity is recognized by the search engines and your boost your rankings just like that. "81% Of marketers found that increased traffic occurred with as little as 6 hours per week investing in social media marketing." 
I will monitor Google Analytics and social metrics
These are valuable, free tools at your fingertips. You can pull endless reports and information on your traffic and audience behaviors. If you don't have Google Analytics connected to your website, do it! If you haven't taken the time to utilize the insights that Facebook and other social media provides, stop what you are doing and look through it. You'll likely be pleasantly surprised at the information you can pull. If you feel overwhelmed by it all and that's why it's been put on the backburner, ask for some help. Reach out to marketing professionals, like us, to sit down and go through these items with you. Take your time to dig in and understand the metrics being measured. Once you have a better understanding of your traffic flow, your online marketing needs and efforts will make more sense.
I will keep consistency with all online marketing efforts.
No matter what path you take, what's important is consistency. All of your marketing efforts need to back the same purpose, they need to represent the same message and branding. Don't bounce around. Don't create individual marketing for your website to your social media. What you can, and should, do is create individual marketing campaigns for each online profile. These subtle changes should be in line with the audience and user needs for each profile and requirements, however, your branding should remain the same. Whether they find you on Twitter or Pinterest or on your website, your marketing image and message should be recognizable as "yours" through all fronts. Don't confuse your audiences, make it clear in your strategy planning what you want to represent and stick with it.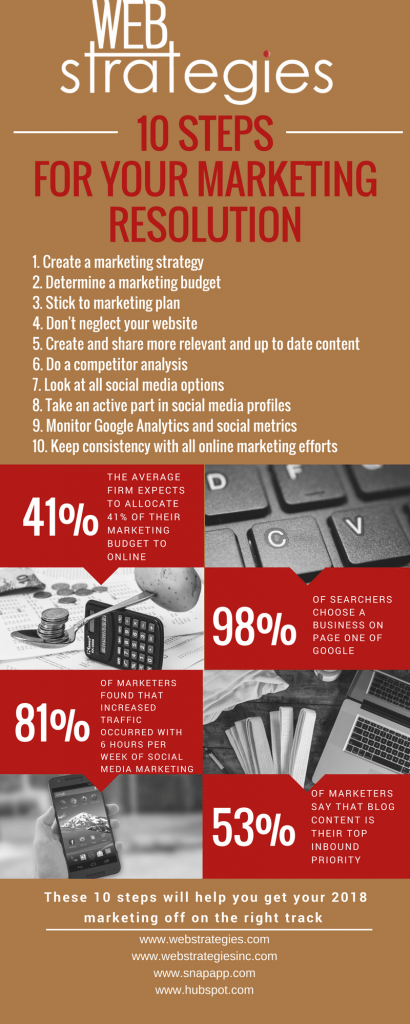 Sign up for Our Newsletter!
Like it? Share it!