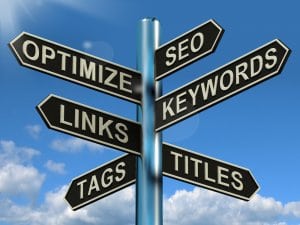 If you want to improve your overall Search Engine Optimization (SEO) you need to understand how to maintain your organic SEO.  "Organic SEO refers to the methods used to obtain a high placement (or ranking) on a search engine results page in unpaid, algorithm-driven results on a given search engine. Methods such as boosting keywords, backlinking and writing high-quality content can all improve a site's page rank."
Organic SEO takes effort but, when done right, has lasting results. It's about utilizing and making the most out of the tools at hand. Once you have the right website and online profiles created, follow the basic requirements that will measure up in Google's algorithms.
Start with your website. Verify your website is secure, well maintained, is mobile responsive and meets the basic requirements.
Content is still king. Create keyword strong content. Define a list of keywords/phrases that relate to your business and base your content around it. The most effective way to maintain new, updated content is by blogging. Keep it relevant, interesting and include images or videos.
Break down your pages. Don't cram all of your content onto one long page. You will increase your bounce rate by overwhelming users with too much content and they'll immediately move onto the next versus scrolling through long winded pages. If you are listing out your services and they can easily be broken down into individual pages, with individual keyword focuses, then do it! A page needs to consist of 300-500 words. Each page can only contain one keyword focus. If you are listing multiple elements of each page, you could be missing out on the search engines finding your site for the given topics.
Make sure each page, blog and image on your site is optimized with appropriate SEO settings. Don't waste all your efforts of producing strong content that isn't followed up with proper SEO. Make it easy for Google to spot your content over your competitors. Spell it out for them by using SEO Title, Meta Description, Permalinks and Alt Tags.
Integrate social media. Social media marketing is a major component in boosting your SEO rankings. Referring traffic back to your site from your social networks will increase your overall ratings. Google tracks social engagement like click through rates, likes, comments, shares, etc.
If you are pumping out quality content, you have a higher chance of other sites or directories linking back to your information as a valuable resource. You can also link to relevant and useful links from your site. You don't want to link to just any website out there, hoping it will give you referring traffic or higher rankings. If you are going to link to another site, make sure it is relevant to your business or the topic you are discussing. Also ensure the link is a viable resource, Google will only note significant and suitable links. Gaining backlinks organically will improve your rankings.
List your business on any appropriate online reference point to increase your traffic reach. Are you utilizing Google Business, Directories, Guest Blogging, and Social Networks? Share what you are creating, if there's a place that lists your business, make sure you manage that listing.
Research your target audience. Perform constant research on the organic keywords they are using, what social networks do they follow, what content do they react to? Find out where your audience is engaged and make certain your business follows the right pattern for optimal market reach.
Sign up for Our Newsletter!
Like it? Share it!