We've discussed it time and time again, social media is a must for today's businesses. There's no way around it! If you want to pop up on the first page of Google, if you want people to find you when they are searching, social media plays a huge role in search engine optimization. That topic has been stressed enough, the bigger issue is what social media should I be using to best reach my audience. Yes, you can start creating social profiles but are they the right ones for your goal?
Below is a simple break down of the basics to give you a general understanding of the social platforms and their typical pattern for the followers.
Facebook – is all about creating a community a following of similar interests. It's about sharing news and information of similar interests and "liking" those posts. With roughly 1.65 billion monthly active users, it's one of the most popular platforms, for personal and business use. People like pages, like posts and their friends/followers, see that activity. The more likes the more awareness a page gains. As a part of that trusting community of connections, people trust those they are following. When they see another friend has liked something it encourages them to check it out as well.
"It's important to keep in mind that many use Facebook as a personal network to connect with their friends or loved ones. Your brand needs to fit into this atmosphere naturally in order to keep people interested in what you're posting. So don't make it solely about selling."
Twitter – is all about the here and now and what's happening. Having over 310 million users, Twitter is short and sweet and more about getting engagement through topics in order to create awareness of your page. It's about the topics that everyone is talking about, joining in on it and hoping for others to join in on that discussion, therefore, gaining more followers. Twitter is connected with Google so it's definitely beneficial for SEO purposes. If not covering popular topics, your page could be lost in the mix or overlooked.
Instagram – is a visual platform. With over 300 million users, it's quickly ranking well with Facebook and Twitter. Instagram focuses on mobile networking and is a break in the typical social media pattern of focusing on pictures and short videos. If you have a business that benefits from showing images and/or videos then Instagram is the right choice. Like most, it's based on interests. The more followers you gain the more their followers will see you as a suggestion. This is all about the visual marketing aspect. If you have appealing images to showcase, that are relevant to your target market, Instagram is a great route. If you have a message to get out, a way to represent your marketing with visual appeal, you build from Instagram.
Pinterest – is knowledge, referral-based. It's about sharing noteworthy facts that your audience can benefit from, providing inspiration for a project they are considering, giving just enough insight to show your relevance for a given topic. Encouraging them to follow through with utilizing your business. While also benefiting from the visual aspects to pull their attention, it flourishes by showing your knowledge in your industry and becoming a trusted resource for people to follow. With strong visuals and captions to pull the follower in, Pinterest benefits those with a product or service to sell that can link back to your referring link.
LinkedIn – where to go for professional connections. Showcase your education and experience and connect with those that can support the work you provide. This is a social network for the personal development realm. It's always good to promote your business but LinkedIn also supports the people backing that business. Completely different from other social platforms, LinkedIn provides insight into who's behind the scenes that make the business successful.
YouTube – all videos all the time and still the leading video sharing platform. Everyone at some point in time has watched a video via YouTube. If your business marketing could benefit from a short clip that gives enough information to satisfy the curiosity yet still encourages your audience to follow through with reaching out, then YouTube is for you. One immediate boost for SEO is the fact that you need to have a Google account to have a YouTube account. So, Google will already be picking up on the action you get from you shared videos. YouTube creates easy sharing and embeding steps allowing you to quickly and effectively share your videos to reach your target market.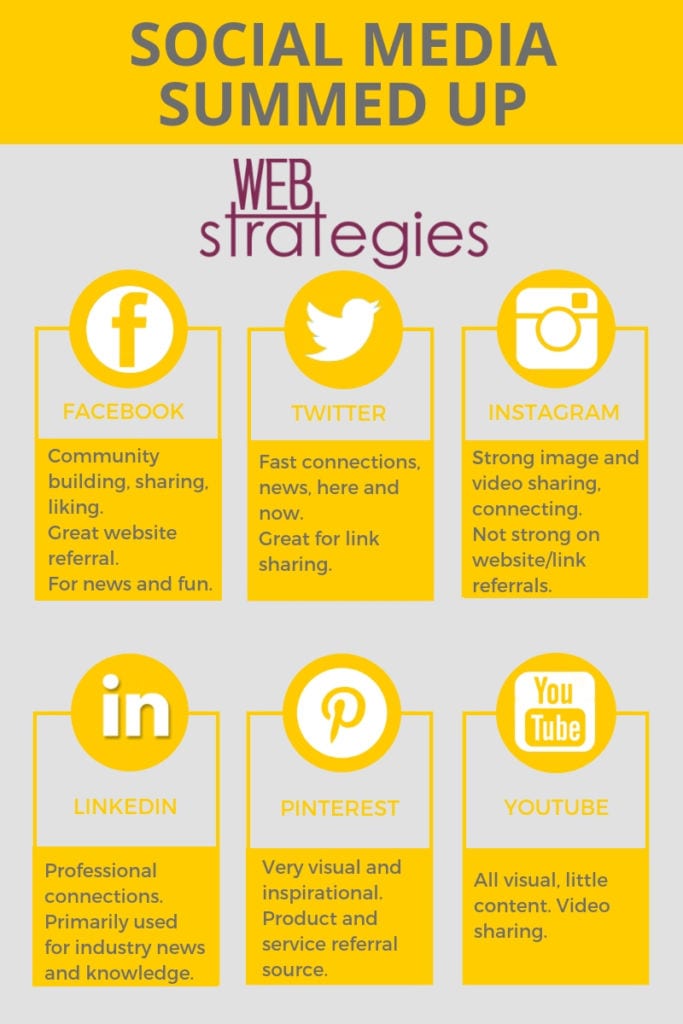 Sign up for Our Newsletter!