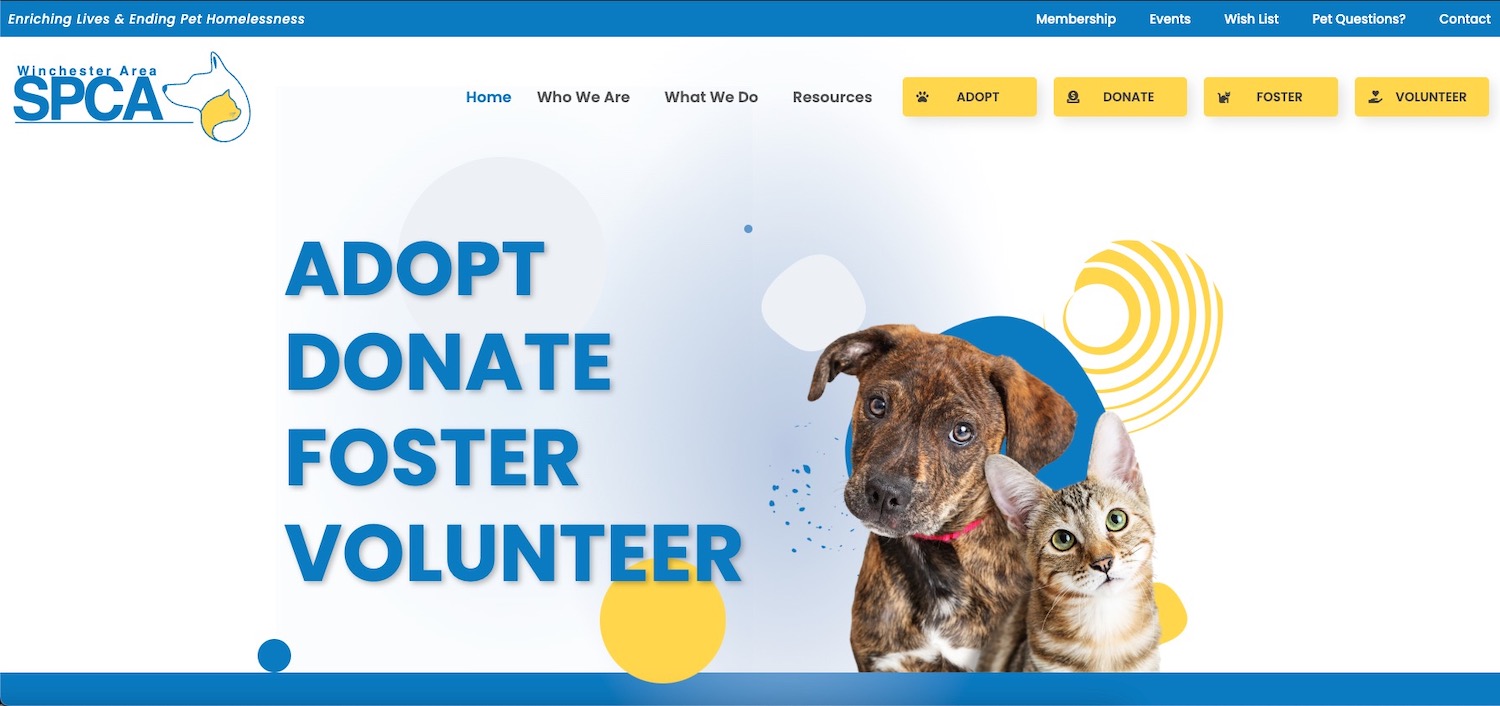 The Winchester Area Society for the Prevention of Cruelty to Animals (WASPCA) is a non-profit organization dedicated to providing shelter, care, and adoption services for homeless and neglected animals in the Winchester area. WASPCA is a no-kill shelter for dogs, cats, and other wayward and abandoned pets. In addition to its shelter and adoption services, it also provides food for companion animals whose owners have suffered financial setbacks, operates a thrift store, offers assistance with spaying, neutering and medical expenses, and more.
In January, the Winchester SPCA made a significant announcement, revealing its new identity as the Winchester Area SPCA (WASPCA), accompanied by a fresh branding initiative. This change was driven by their commitment to enhancing and expanding their services within the community. With a focus on the future, the organization sought to adopt a memorable name and a rejuvenated logo that would align with its vision for the next phase of its journey. Additionally, this rebranding effort aimed to acknowledge the independent animal shelters operating in Frederick and Clarke counties while better reflecting the Winchester Area SPCA's service area.
In order to enhance their missions and expand their reach, they embarked on a comprehensive website redesign project aimed at creating an engaging and user-centric online platform.
The primary objective of the website redesign was to create an engaging, intuitive, and informative platform that would enable them to effectively communicate their mission, increase awareness about animal welfare, and facilitate pet adoptions. Additionally, the Winchester Area SPCA aimed to incorporate a comprehensive online donation platform, an advanced event calendar solution, a user-friendly navigation menu, and a social media integration to provide a seamless and immersive experience for visitors.
The website was designed with a clear and logical navigation structure, making it easy for users to find the information they seek.
A comprehensive online donation platform was implemented, enabling visitors to make donations easily and securely, streamlining the donation process. The platform incorporated a donor dashboard, allowing donors to track their contributions, generate tax receipts, and manage recurring donations for convenience.
An advanced event calendar solution was integrated, simplifying the creation, management, and sale of event tickets directly on the website.
A Facebook feed was incorporated on the home page to provide visitors with real-time updates, news, and events, ensuring they stay informed about the organization's activities.
The main sections were dedicated to the core actions the Winchester Area SPCA aimed to encourage: adopt, donate, volunteer, foster, and become a member. Each section provides clear information and easy-to-follow steps, making it convenient for visitors to take the desired action.
We thoroughly enjoyed creating this website, and we invite you to look at the result of our hard work. Visit the site and explore the seamless user experience, engaging features, and informative content carefully crafted for you. We hope you enjoy navigating through the website and discovering the wonderful initiatives of the Winchester Area SPCA.