The New Year is right around the corner which means it's time to take a step back and look over the past year. Time to assess your marketing plan and review your strengths and weakness. Determine what worked and what changes need to be made to bring in 2018 strong.
Reviewing your website is important, this is often a customer's first impression. You'll want to make sure all your information is up to date, relevant and in working order. Keep communication lines open and clear with your web development or marketing team so everyone is on the same page and knows the direction and goals you wish to achieve. This is a great time to make those changes you may have been putting off. Review content, update your calendar and schedule, add testimonials or reviews, add some images, get your past years blogs into archives. Wrap up any loose ends and go into a new year with a clean slate.
Your social media is just as important. Keep consistency with your website branding and make any needed updates to your profiles. Check up on your followers, follow new businesses back, and build up your audience. Create a new cover and profile photo. Think of an ad or promotion you might be able to run to boost your page. Create a production schedule to start the New Year with a plan that helps you follow through all year long.
Is it time for your businesses image to start fresh? With a new year comes the ability to rebrand, update your look and learn from the past. Maybe you've gone through a business restructure or maybe your business has been in operation for many years and in need of a refresh. Whatever the reason, you'll want your brand to be recognizable, people should be able to associate the look directly to your business, especially if you are changing it up. Your brand image is the face of your business and planning is key when it comes to making any changes. This is definitely the time to recruit professional help! Your marketing team should be working along your side during this process to ensure your business is represented in the right way.
With the New Year also comes the potential to welcome new customers! Take full advantage of all your online platforms to reach new faces, gain new interest and perk the interest of existing followers. Encourage new product use or draw attention to a service that might get skipped otherwise. Promote, promote, promote. While building a new customer base is important, it's also important to let your current customers know their continued business is important to you.  Send a message, give or add some promotions made just for them. Show your appreciation and let them know their value to your company. By showing appreciation for who you have will open the eyes of those to come.
In the New Year, don't think you have to tackle it all yourself. Take full advantage of what a marketing team can offer. Tips, tricks, and a helpful hand can help you start fresh and positive.
Welcome in the New Year with us at Web Strategies!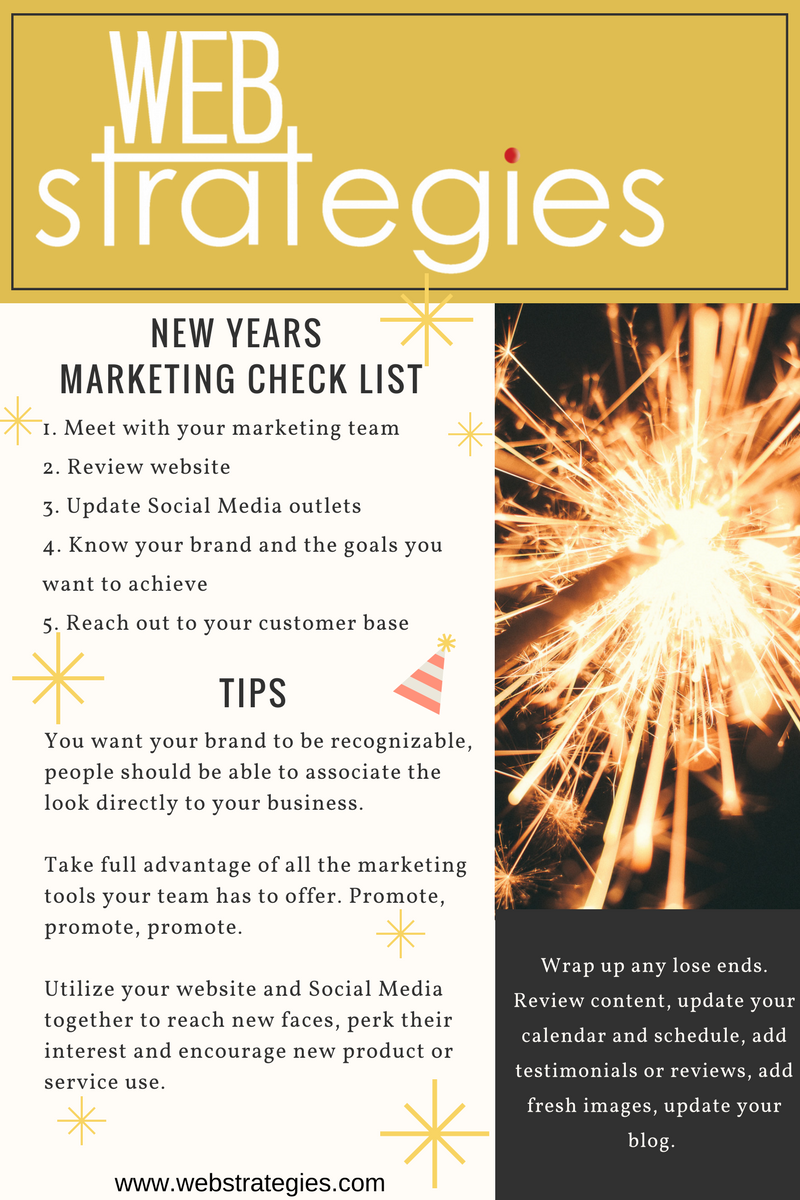 Sign up for Our Newsletter!