Content will remain king and in order to stay on top of the search engines, you need to produce quality content on a weekly basis. Thinking of blog topics and types of posts can be time consuming and overwhelming if not thought out and planned. This frustration often leads to putting our marketing needs on the back burner when they should be a the forefront of each day. The key is to understand your target market and the means to reach it, establishing your marketing goals and reach expectations, and creating an online marketing strategy and plan that will see it all through. Starting with a base structure will help keep you in line and minimize the constant (and sometimes) wasted efforts of thinking on the fly. Creating a content production calendar has been extremely useful for the content marketing we perform for both our internal purposes and our clients.
Let's break down our process and what has proven to work for our purposes. One thing to note is these production calendars are certainly not "set in stone". Exciting news may pop up along the way, other topics of discussion may prove to be more relevant, or varying marketing efforts may present themselves differently along the way and that's ok! The way you handle your content marketing is entirely up to you, however having a structured strategy in place will help guide you towards a more efficient and effective way of marketing your business.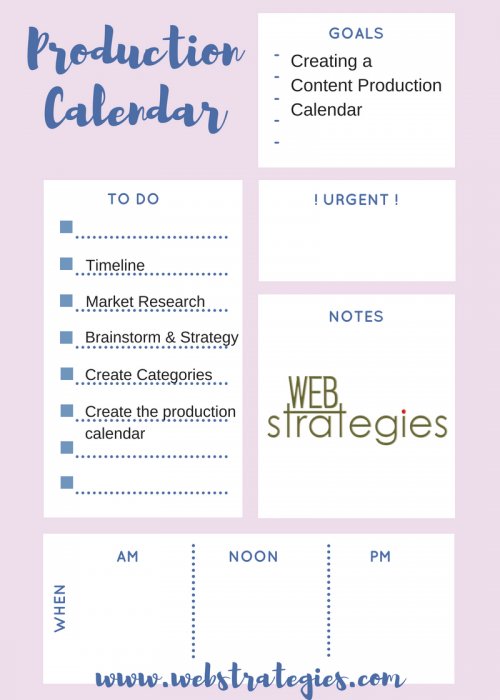 Timeline
Establish a working timeline for your marketing goals that makes sense for your industry or purpose. Create your production calendar around that timeframe. We have found that breaking the year down quarterly allows us to focus on an expanded period that's not too overwhelming of a stretch. Breaking the year down into quarters helps to keep the focus on the holidays, seasons, and special dates you want to include in your marketing plans. Think about how your marketing trends have varied in previous years. If you notice obvious peaks, dips or plateaus, base your marketing timeline on what you know your audience will follow.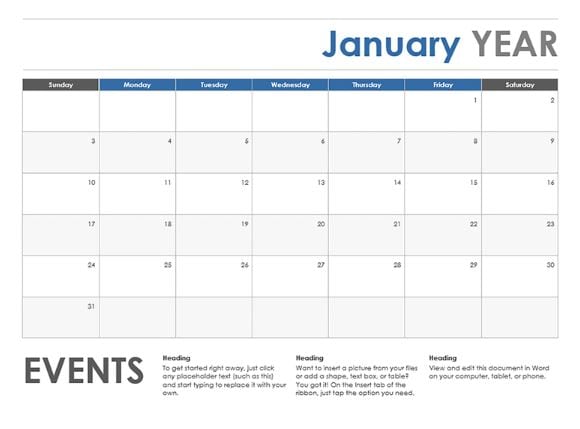 Market Research
What are your marketing goals? What marketing efforts to you want to draw attention to? What content does your target audience respond to? Run Google Analytics and social metrics to monitor your performance in correlation with your audiences' behavior. Create an effective strategy based on the statistics in front of you. What does your audience want from you? What do you want your audience to see and do based on what you are giving them? Don't just guess or assume what you've been doing is still working. Take the time to do a thorough market and competitive analysis to create an effective marketing plan.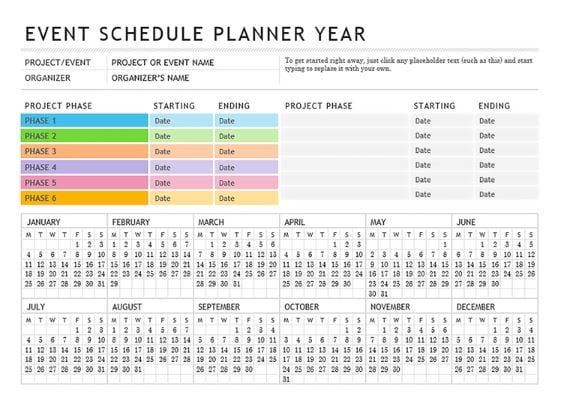 Brainstorm & Strategy
Based on the steps you've completed so far create a strong marketing strategy for the next 3 months. Focus on what's coming up. Holidays that play into your marketing efforts, special dates to note, seasonal aspects to incorporate, promotions to consider….Now, brainstorm keywords, and topics you want to include in your content marketing. This will help guide you in the direction of what content to write and what types of posts to consider. Pay attention to market trends in your industry to understand what keywords or topics would be of use. What #hashtags are trending, how can you incorporate this into your content strategy?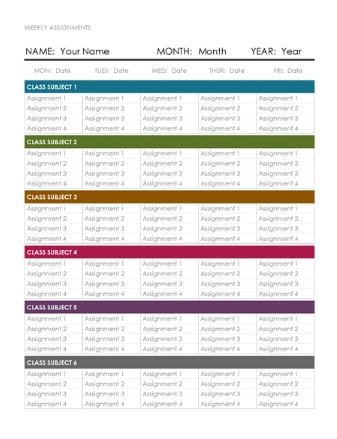 Create Categories
Now that you know what content you want to cover, break down that content into categories. What we look at is blogging, imagery, videos, shared posts, and paid-ads. Breaking your ideas down into categories will give you the more precise structure on how to generate the content needed when looking ahead. Topics that you intend to create a significant amount of "your own" content for should be blogs. Break down what topics will be best showcased with strong imagery. What topics would make great videos? What keywords are industry strong that you know you can find other articles or posts to simply share? Consider if you want to incorporate paid ads via Google or Social Media and plan accordingly.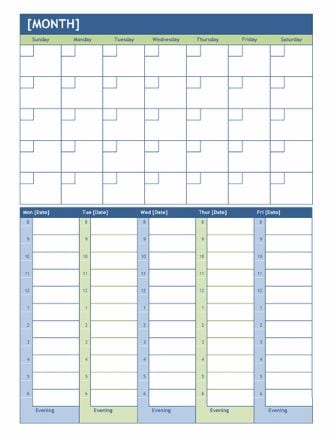 Create the production calendar
The final step is piecing all your strategy and ideas into a simplified calendar layout allowing you to quickly reference the plan you've carefully laid out. Depending on your preference you can create an outline style of each month to include an outline of each subject of focus (dates of interest, topics, and keywords of focus, categories for production type, content needs, the frequency of posts per week). Or you can put it in a monthly calendar view where you place each need on the given day for a clear view of what's to come and needed to-dos. Color code, bold, font style, do whatever you need to customize your production calendar for efficiency.
There are multiple "free", online template downloads out there but honestly, searching the calendar or outline templates available in Microsoft Word have proven effective for any needs we've had. Depending on your design preference there are templates in just about any style and are completely customizable.
Sign up for Our Newsletter!