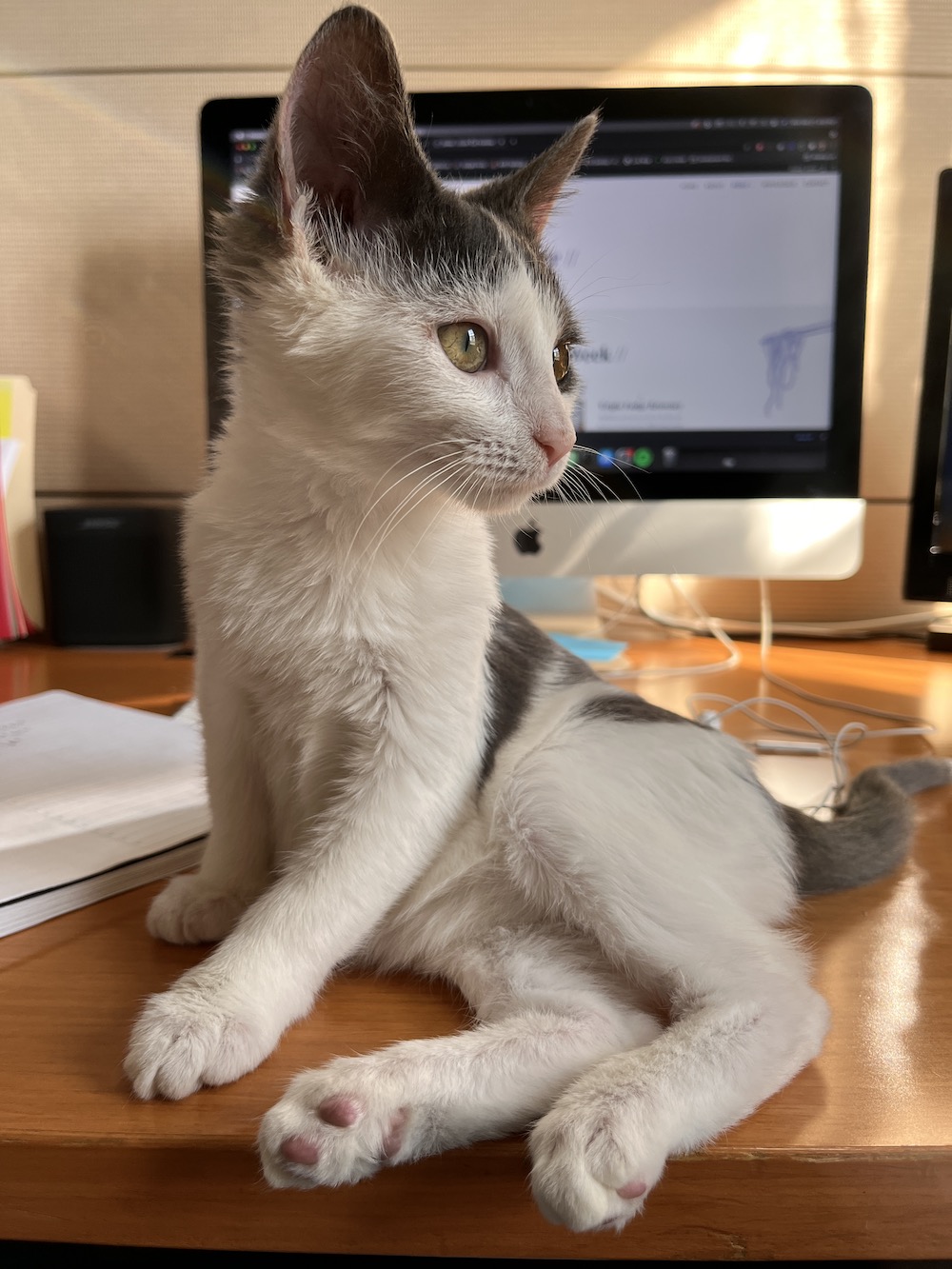 Well, the cat's out of the bag! If you don't follow us on Instagram you've been missing out on our best-kept secret: a small grey and white cat named Commissioner Gordon. He's a bundle and a half of joy and we're all proud cat parents. (-0p78 – I'd like to take a moment to recognize that Gordon added this contribution as I was writing) 
Gordon was in a group with two younger cats as someone was about to dump them on the streets when the shelter wouldn't take them. When they came to the office we gave them a bath to get rid of the fleas and gave them a good meal. The two littles found homes almost immediately but we couldn't find anyone to take Gordon. Since Jack, our previous office cat, is staying with me (great manager, btw), we let Gordon stay to fill his shoes.
Once we cleared up the fleas and worms he felt much better and was immediately back to being a bouncy little ball of fluff. His favorite activities include clawing laps, making biscuits, screaming tiny "meep" sounds, chasing furry toys, tearing through each room at lightning speed, and stealing lunches (and hearts honestly).
He's been so fun to have around and keeps things interesting here at the office. We also love when he makes an appearance at zoom meetings (by maniacally attacking your hand) or when he picks up a fuzzy ball toy and runs back and forth with it in his mouth. A second-generation morale-booster if there ever was one. He keeps us smiling and laughing at his little kitten behaviors daily.
We're honestly so glad that we can give a home to a cat-like Gordon. We are happy to work with organizations that help support animals here in Winchester such as GoodDogz and Dakota's Dream. Our managing director, Faye, is fostering a soon-to-be mama cat for the Winchester SPCA. We all have a heart for animals and consider it a big part of our culture here. It's always pet-friendly at the office. 
Sign up for Our Newsletter!