First impressions are everything. You don't get a second chance to make a better impression. Your website is the online face of your business and it's equally as important to put the time into building a great website as you have to build your business.
Let's take a look at 10 website must haves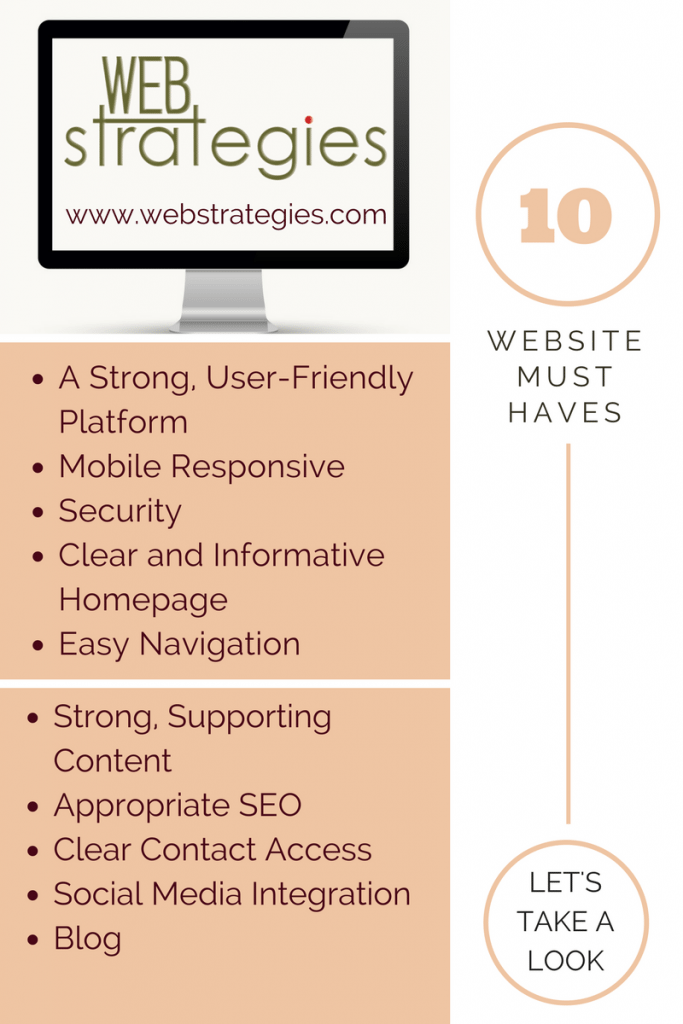 A Strong, User Friendly Platform
Use a content management system that is well supported, has a great backbone and meets the requirements needs of your site. If you build your site in a platform that is difficult from the beginning, that's going to lay the groundwork for future use. Research your options and take the time to develop a site that is well built and can grow and change as you need it to.
Mobile Responsive
Since 2015, Google announced the changes in their algorithm to focus on mobile responsiveness due to the steady increase in mobile device usage. It's a must have. If your site isn't mobile responsive, it's simply getting skipped over.
Security
Host your website in a secure hosting environment where you are getting appropriate protection and regular backups. If your website requires an SSL you'll want to ensure proper setup is happening there as well. You should be comfortable with your hosting company and the support they offer. The last thing you want is for someone to get a warning when visiting your site that it may not be secure, or to have a constant 404 page that you are unaware of and when you try to fix it, you get nowhere with your hosting company.
Clear and Informative Homepage
Your homepage truly the face of your website. It's the first impression, the representation of your business as a whole. Make sure your homepage can quickly explain your websites overall purpose at a glance. You get less than 3 seconds to grab a visitors attention. Create brand recognition and don't leave visitors guessing or needing to search further to determine if they are on the right page. "Guessing" leaves opportunity for them to leave and move onto the next. Create clear call to actions for usability. Create a map with your homepage that guides visitors in the direction you want.  (more on what to include on your homepage in an upcoming blog)
Easy Navigation
Have a simple navigation. Know what your primary navigation needs to be that allows users to immediately spot what they are looking for. Clearly breakdown the sub navigation in a way that provides quick reference points but also doesn't lead your users down a rabbit hole of them clicking from page to page just to find the right information.
Strong, Supporting Content
Give your visitors enough content to feed their curiosity but, still encourages them to follow through with reaching out to you. You don't want to bore them with endless reading material on how much you may know. At the same time, you don't want to give so little that it leaves them wondering if you really know what you are talking about. Google needs to see content so they can weed through the searches. Searchers need content to feel comfortable with making a decision. You need to provide the right balance of keyword strong content to support both needs equally.
Appropriate SEO
Ensure you have the right SEO settings to attract the search engines and encourage them to put you on the first page of Google. Fill in all the blanks: SEO Titles, Meta Descriptions, Keyword Focus, Permalinks, Backlinks, Images, Alt Tags, etc.
Clear Contact Access
If a consumer is ready to contact you, the last thing you want is for them to forget about it due to the frustration of trying to find your contact information. Provide easy access to contacting you throughout your site. Whether in the header, footer, navigation, sidebar or all of the above, allow them to easily click on that information at any given point. Aside from quick call to actions, you should always have a primary contact page complete with a list of your contact information as well as a contact form they can quickly submit if that's what they chose. Don't force them to do one or the other, provide options.
Social Media Integration
Have a clear representation of your social media profiles. Social media is a large aspect of online marketing and your business should be represented on appropriate platforms. Allow users to browse through your social networks with a simple click from your site. Linking your social profiles to your site helps boost your SEO and creates an interlocking web throughout all your online presence.
Blog
You need to have a constant flow of new and relevant content on your site. You cannot allow your site to just sit and become stagnant in Googles eyes. Blogging is a crucial part of the upkeep for any online presence. It allows you to keep your original website content the way you envisioned it while providing an avenue for news and updates in a common place users are expecting. Blogging opens the possibilities of new keyword focuses and enriched content placed on your site and shared out to social media and other sites.

Sign up for Our Newsletter!
Like it? Share it!