We aren't just talking about websites here (although it's probably the primary focus). You need to take a look at your entire online marketing presence, is it all mobile responsive? It absolutely needs to be. People, today, are all about immediate satisfaction. With technology improving every minute, it becomes easier and faster for us to get the results we want, right now. Whether researching information, shopping or watching a video, we expect it to open at our fingertips and work properly no matter what device we are using. Over 50% of smartphone users grab their phone immediately after waking up. I wouldn't be surprised if that number has increased in the last year the survey was taken! People use their phones for everything, including their alarm clocks. If they sit up to turn their alarm off, phone in hand, they are going to start opening emails, check in on social media, check the weather…see what's happening for the day. Users are averaging 87 hours per month browsing on a smartphone! Trending times for phone and tablet usage are 8-10am and 5pm-midnight when people are typically home. After working all day they want to sit back and lounge, that usually doesn't include starting up a desktop computer when half of us have been on one all day. Tables and phones are easy, convenient and we always have one or the other on and ready to use. It makes sense to ensure the marketing you create to reach your audience is responsive to the devices they are using.
Google says 61% of users are unlikely to return to a mobile site they had trouble accessing and 40% will quickly visit a competitor's site instead. 57% of users say they won't recommend a business with a poorly designed mobile site. No one needs that negativity floating around their business. With endless competition popping up each day, it's hard enough to stay on the first page of Google. Don't be in that percentage of the forgotten we have now moved passed. Don't "assume" your audience isn't looking on mobile devices, don't "assume" you are meeting the standards if your site is ok-ish on a mobile device, don't "assume" that your good reputation will keep users coming back even though you're not in with today's technology. As a business we can't "assume" anything of our target market (other than they can move on at any given moment). We have to expect that they want what's in the now and take the correct marketing path to achieve those goals.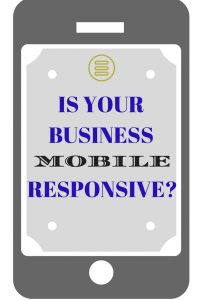 Businesses need to make smart decisions for their marketing strategy. We aren't saying you need to jump on every bandwagon that pops up because it's what's trending. But, mobile responsiveness is never going away and will forever be a requirement to meet the most basic of standards. Considering that, we are saying you need to start with a comprehensive marketing plan to see out the strategy in the best optimized way. Use the tools that are out there and use them appropriately.
Take the time to make your website right. Is it mobile responsive? Is it up to date? Are you using it to its full potential? Check all devices to see how your website functions. If it's frustrating to navigate, why would anyone want to use it? Don't miss out on a potential lead. 88% of consumers who search for a local business on a mobile device call or go to that business within 24 hours.
Get social! Determine what social media platforms are right for you. Create the profiles and maintain them on a regular basis. Consumers of all ages are spending time on their mobile devices looking at social media, capture your audience however you can. 22% of the WORLD'S total population uses Facebook.
Consider other means of marketing and communication. Is email marketing a good source for you? Are your Enewsletters mobile responsive? 91% of people check their email once a day and nearly 45% of all marketing emails are opened on mobile devices.
Let us help you become fully mobile responsive in all aspects of your online marketing.
Sources:
https://www.thinkwithgoogle.com/marketing-resources/data-measurement/marketing-insights-mobile-first-media-plans-2017/
https://www.impactbnd.com/blog/mobile-marketing-statistics-for-2016
http://www.wordstream.com/blog/ws/2017/01/05/social-media-marketing-statistics
https://expresspigeon.com/blog/2014/01/06/email-marketing-statistics-2014/
http://www.smartinsights.com/mobile-marketing/mobile-marketing-analytics/mobile-marketing-statistics/
https://www.socpub.com/articles/the-5-mobile-marketing-mistakes-infographic-14849
Sign up for Our Newsletter!